Overview of Drug and Alcohol Programs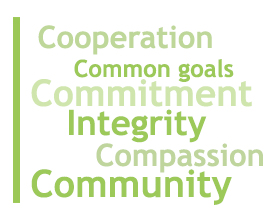 At Prevention Research Institute we are passionately focused on developing effective tools you can use for both prevention and treatment of alcohol and drug problems. We use content and methods drawn from research and thoroughly test them before bringing them to you. People describe our programs as "interesting, different, motivational, compelling, thought-provoking, and nonjudgmental."
Prime For Life® is a motivational risk reduction program. It is used most with people who have had a legal or policy violation such as impaired driving, possession, or workplace violation, but it is relevant for everyone. Prime for Life helps foster attitudes, beliefs, and understanding that helps people reduce risk for any type of alcohol or drug problem. It also creates a unique self-assessment experience to help people be more aware of what they value, what they are risking, and how to protect the things that mean the most in their lives.
Prime Solutions® is designed to help counselors make the treatment experience more evidence-based, engaging, and effective. Carlo DiClemente, Theresa Moyers and Gerald Shulman joined PRI staff in designing a program with 20 session topics all designed to be consistent with Motivational Interviewing, Cognitive Behavior Therapy, and the Transtheoretical Model of Change. All sessions are designed for easy integration with Twelve-Step involvement and are enriched with carefully developed media.
What is the Difference between Prime for Life® and Prime Solutions®?
Prime For Life® is designed to:
Serve as an evidence-based prevention and intervention protocol for universal, selective, and indicated audiences.
Serve as an evidence-based pretreatment protocol. [View the report on how Prime For Life® Increases Treatment Readiness].
Fulfill an ASAM Level 0.5 (early intervention) requirement, and serve as the educational component in any ASAM Level of Care.
Help people move through the first three Stages of Change - from Pre-contemplation to Preparation - within the Transtheoretical Model.
Be consistent with the principles of Motivational Interviewing and Cognitive Behavior Therapy in a therapeutic educational setting.
Prime Solutions® is designed to:
Serve as a treatment protocol that can follow and build on Prime For Life® or stand independently. [View the report on how Prime For Life® Increases Treatment Readiness].
Serve as an ASAM Level One (outpatient) program, or as a central portion of any other ASAM Level of Care.
Help clients achieve the fourth Stage of Change - Action - in the Transtheoretical Model.
Support a Motivational Interviewing approach to working with clients.
Utilize strategies from Cognitive Behavior Therapy and Twelve-Step Integration while showing counselors how to integrate Contingency Management as a therapeutic tool in a treatment setting.
Want to learn more about the benefits of adopting Prime For Life® or Prime Solutions® in your organization? Please email Ejna Mitchell or call 1-800-922-9489 8:30 - 5:00pm Eastern Time Zone (ET) M-F.