Prime For Life® Training
"Appreciate the polished presentation and instructional aids used by the PRI trainers. Such originality and creativity. I got a lot of opportunities to reflect on my skills and the listening skills practice let me see how much I have improved. The instructors/trainers have such a calm soothing supportive demeanors. Thank you for all your hard work. It shows in the smooth polish to everything you do. Anchorage Continuing Education Training, August 2010."
Prime For Life® Continuing Education Training, Anchorage, AK
What Will I Experience In A New Instructor Training?
PRI's approach to training is based on blended learning strategies. We blend experiential, active learning with media-rich approaches to create a dynamic training experience. Find out more about our trainers.
What Resources Will I Have?
Access to a detailed Prime For Life® Instructor E-Manual cross-referenced to over 1600 scientific publications
Access to the Prime For Life Presentation Application which allows computer-based facilitation of Prime For Life.
One Prime For Life® Participant E-Workbook
Customizable Instructor Dashboard complete with certification tracking, newsletter archives, and more.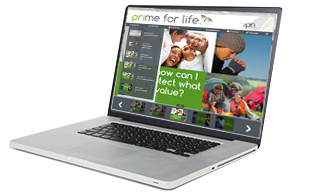 What Happens After Training?
After completing a New Instructor Training, we invite you to experience annual Continuing Education Trainings. Each Prime For Life® Continuing Education Training is designed to introduce instructors to new skills and fine tune techniques needed to confidently and effectively deliver the program. Depending on the state or system you work with, in-person Continuing Education Trainings are typically a one or two day event at no additional cost to you, including CEUs! Session topics vary from year to year.
What Type of Instructor Support Is Provided?
On-going support
Technical assistance and follow-up after the training is an ongoing support service offered by Prevention Research Institute staff.
Skill building and continuing education events help instructors maintain their competency, stay updated on the latest research, and develop and enhance their delivery skills. PRI supports instructors with ongoing toll-free program assistance, online chat, webinars, media enriched online manuals, and customizable instructor dashboards of all available resources accessible by logging into the secured area of this website.
Moving ForWarD coaching program
In addition to training, PRI trainers are available as coaches for instructors who want to enhance their knowledge and delivery skills. Instructors record a video of themselves delivering a Prime For Life® group, then send the recording to trainer coaches who code it using a reliable feedback tool. Instructors then receive personal coaching feedback and assistance to craft an ongoing development plan towards refining their skills.
Ready to Experience Prime Training?
PRI offers Prime For Life®New Instructor Training and Continuing Education in many cities. Go to Training Events on our website to find the training location nearest you. Then click on register!
Many of the Prime For Life® trainings are sponsored by state systems. Participants outside the sponsoring system are welcome to attend. Please email Jo Marie for more information. You can also call 800.922.9489 during office hours from 8:30 AM to 5:00 PM Eastern Time Zone (ET), M-F.
To find out more about implementing Prime For Life® or Prime Solutions® in your state or organization, please contact Ejna Mitchell, Vice President of Programs by email or call her at (859) 296-5032.