Prime Solutions
®

Training

"The outline of the sessions and seeing how a sample session could be conducted were the most helpful parts of Prime Solutions® training. I typically do not enjoy interactive trainings, however this was done very well, and I felt comfortable participating. Seeing how the website worked was also helpful. "

South Carolina Prime Solutions® Counselor
WHAT CAN I EXPECT IN A Prime SOLUTIONS® LEVEL I TRAINING?
You will experience several Prime Solutions session topics, just as your clients will in actual group or individual treatment settings. Our trainers will guide and coach you in considering how to tailor and personalize the Prime Solutions session topics to your unique treatment settings and your clients.
You will also practice navigating online training and session-specific topics. There is time devoted to skill building activities that will prepare you to recognize and respond to cues of client readiness.
Prime Solutions is a unique program and differs from many treatment approaches. To ensure an understanding of both of the content and treatment protocols, attendance for the entire event and full participation are required.
WHAT MATERIALS WILL I RECEIVE FROM LEVEL I TRAINING?
You will receive: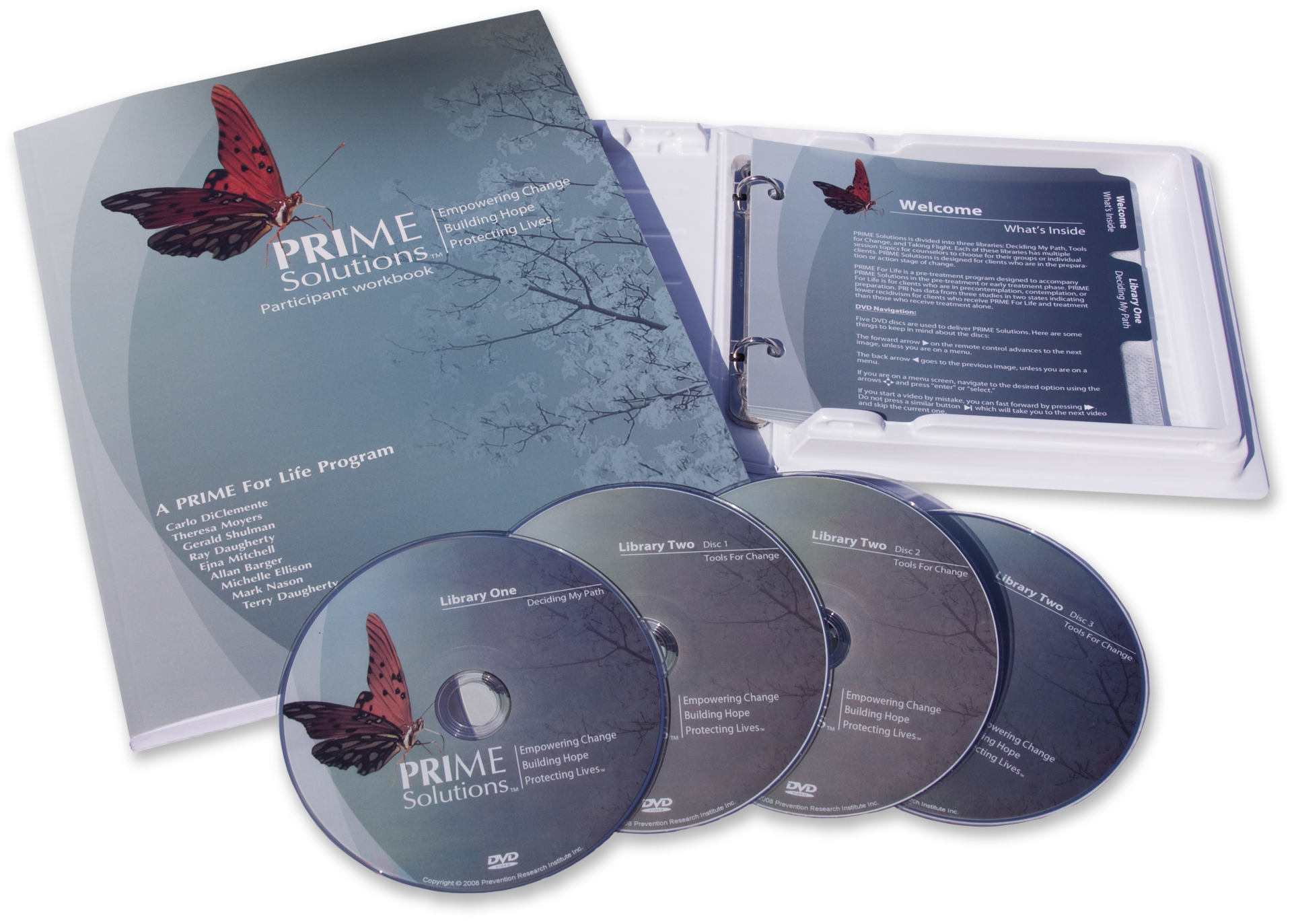 One Prime Solutions Participant Workbook
Secure access to your personal Prime Solutions online manual and tools to help you deliver the curriculum effectively.
WHAT CAN I EXPECT FROM PRIME SOLUTIONS LEVEL II TRAINING?
Prime Solutions Level II Webinar training involves a dynamic blend of small group sessions, a review of participant and client interactions, and out of session readings and activities. The small group training sessions will consist of eight to 10 participants and one trainer. They are done via Webinar and designed to enhance and maintain practitioner skills in the use of Prime Solutions®. There will be six content sessions over a twelve week period, along with an initial session designed to increase comfort with the Webinar technology and recorders. Participants will be expected to participate in the two-hour training sessions once every two weeks from their home or office. Participants should also expect to spend an additional 90 minutes each week completing the out of session readings and other activities. As part of those activities, participants will be expected to provide at least one audio recording of a work sample over the 12 weeks for which they will receive individual feedback and coaching via the telephone.
We will include more information about Prime Solutions certification soon. Please check back for more information.
For more information, please contact David Rosengren.
"I am so inspired to be familiarized and trained in a progressive theoretical model that has already been developed so I need not reinvent the wheel. "
Prime Solutions training participant
WHERE CAN I FIND A COUNSELOR TRAINING NEAR ME?
PRI offers Level I in-person Prime Solutions training events around the country. Go to Upcoming Events to find the training location nearest you. Then click on register!
Prime Solutions Level II trainings are designed for participants who recently completed a Prime Solutions Level I training.
All lead trainers for Prime Solutions Level I and II trainings have received advanced training in Motivational Interviewing and are members of the Motivational Interviewing Network of Trainers (MINT).
Prime Solutions Webinar training events are also available on demand for those who would like more support after attending an in-person event.
ON-GOING SUPPORT
Technical assistance and follow-up after the training is an ongoing support service offered by Prevention Research Institute staff.
Skill building and continuing education events help counselors maintain their competency, stay updated on the latest research, and develop and enhance their delivery skills. PRI supports counselors with ongoing toll-free program assistance, online chat, webinars, media enriched online manuals and customizable dashboards via private secured log in on instructor.primeforlife.org.
MOVING ForWarD COACHING PROGRAM
In addition to training, PRI trainers are available as coaches for instructors to enhance their knowledge and delivery skills. Counselors record themselves delivering a Prime Solutions session topic and then send the recording to trainer coaches who code it using a reliable feedback tool. Counselors then receive personal feedback and assistance to craft an ongoing development plan.
READY TO EXPERIENCE PRIME TRAINING?
Go to Upcoming Events to find the training location nearest you. Then click on register!
To register for a Prime Solutions Counselor training event, view the Prime Solutions training events calendar. Click on the training event you would like to register for. You will see a page with the details for that specific training event. Click on the button "Spaces available. Click to Sign Up".
Some Prime Solutions Level I training events may be sponsored by state systems and are closed to counselors outside of the sponsoring system; some of these are open as space becomes available. Please email Jo Marie for more information or call 800.922.9489 during office hours from 8:30 AM to 5:00 PM Eastern Time Zone (ET), M-F.
Payment: There is a training fee to attend a Level I in-person training event and a Level II series. Invoices for this fee will be sent prior to the training event. If you need an invoice, please contact Jo Marie at 800-922-9489. Refresher status will be granted to those trained during 2012 or after and they will not be invoiced for the training fee.
During a Prime Solutions training, counselors sign an agreement with PRI to assure that each client will be provided with or will purchase a Prime Solutions workbook. Workbooks are essential to participant learning and include activities completed during the treatment sessions. They also include an easy-to-read summary of the information shared in each session. Your clients may refer back to their workbooks through the years and reflect on the milestones they have achieved.
To find out more about implementing Prime For Life® or Prime Solutions® in your state or organization, please contact Ejna Mitchell, Vice President of Programs by email or call her at (859) 296-5032.